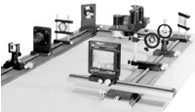 The Data Optics System
Data Optics manufactures systems and components to meet the exacting requirements of modern optical research in such fields as optical data processing, holography, lasers, and electro-optics. There are four methods for setting up a typical system with Data Optics components: on a Data Optics precision optical bench, on a Data Optics table rail supported by an optical table, using a Data Optics alignment bar on an optical table, or with rigid mounts attached directly to an optical table or breadboard.
space
Remote Focusing
Any optical mount in a system can be used to remotely move any other mounts by a unique rack and pinion arrangement. One or more mounts are locked to the rack and moved by a pinion mechanism in another mount, without disturbing the optical alignment.
space
Carriers
A dovetail slot in the carrier matches the shape of the alignment bar for outstanding repeat positioning accuracy. The carrier can be finely positioned by use of the pinion mechanism and clamped in place. It can also be placed on the alignment bar facing either left or right and still maintain optical alignment. The carriers have flat bottoms so that they can be used directly on any flat surface, as well.
space
V-Rods and V-Rod Mounts
To provide as much versatility as possible, Data Optics offers a unique rod mount. The "V" shape of the rod mounting hole accepts our special V-Rods or any diameter round rod up to 0.75" (19 mm). Round rods locate precisely on the two lines formed by the "V." eliminating wobble, while V-rods prevent rotation and retain their angular alignment even when raised or lowered in the mount.
space
Benches
Optical benches have the distinct advantages of compactness, lightness, portability and precision. Data Optics benches are remarkably accurate and rigid due to their unique box-beam construction. Three adjustable feet provide stability and leveling capability.
space
Table Rails
Data Optics table rails are low profile optical benches designed to give optical tables the capacity for precision alignment, repeat positioning, and remote positioning provided through the Data Optics system.
space
Alignment Bars
Data Optics alignment bars can be mounted directly to an optical table or breadboard for confined setups. The customer must, however, align the bar to the precision required by their application.
space
Choice of Sizes - Three Complete Lines
Three sizes of components are available. For smaller, lighter components, and when space is limited, choose the Series 76 components which have a 3" (76 mm) base width. For larger, heavier components, use the Series 133 components which have a 5.25" (133 mm) base width. For miniature optical systems, use the newest, Series 50 components which have a 2" (50 mm) base width.
space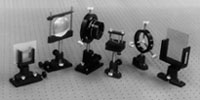 Accessories
Our wide variety of accessories can be used with the Data Optics system, or on any suitable surface or rod mount. Accessories include Filter and Plate Holders, Spatial Filters, Translation Slides, Hologram Holders, Film Drives and Liquid Gates.
space