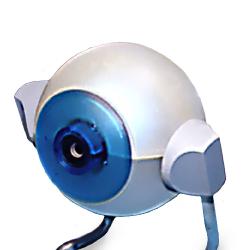 Features:
Real-time Preview Viewing and Still Picture Capture
Standard Optical Post Mount
Focuses from 1cm to Infinity
PC and Mac Compatible (Mac OS 8.6-9.x, X, Windows)
640 x 480 Pixel Resolution
Great, 24-bit Color Image
High Speed FireWire (IEEE-1394) or USB 2.0 I/F
space
The Silicon Eyeball Camera can solve your visibility problems.
Do you want to see what is going on in your experiment, but can't because there's limited room to get your eye where you need it to see? Or is the object or pattern you want to view too close, too far or too small? Is laser safety an issue, or is the experiment enclosed or inaccessible to a human observer?
space
The Data Optics Silicon Eyeball (SiEYE) camera can solve your problems. Mini-sized, you can place the camera in a standard optical post mount, adjust its orientation and focus its removable lens. Use filters, pinholes, lenses and neutral density filters in front of it, as desired.
space
The Silicon Eyeball camera attaches via a standard FireWire cable to any PC or Mac with a powered FireWire port or via a USB cable to any PC with a USB 2.0 port. The real-time image can be viewed with the software provided and a 640 x 480 pixel snapshot can be recorded for later analysis or documentation.
space
Specifications:
640 x 480 Pixel Resolution, 24-bit Color
PC & Mac Compatible Hardware & Software
FireWire or USB 2.0 Interface, 6 foot Cord
Software for PC & Mac Included on CD
Easy, Plug & Play Installation
Bus Powered
space